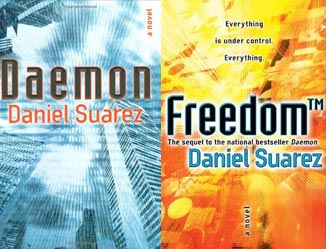 If you're looking for an easy read with lots of sci-fi action, I'd recommend the first one (of two) I read a few months ago called Daemon
by Daniel Suarez. It's about a computer genius who sets up an unalterable chain of events to begin occurring when news of his death hits the media. Very entertaining and quick to get through.
The second book in the series, Freedom
, continues where Daemon leaves off…
Both books highly recommended if you're kind of a sci-fi geek like me.
The third Suarez book I recently finished, Influx
, follows a similar train of thought, but doesn't have the same kind of continuity there was in the other books.