Traveling by myself after college was a bit of an underwhelming experience. I'm not good at planning (trips) and I'm never really sure of what I want to do when I get there. It's always like…'um, let's go look for some sneakers.' Not a great way to travel.
When I made my way to Barcelona, I spent my first night getting really drunk with a bunch of people I had never met before…we just happened to meet in the hostel lobby. We went to a couple of different bars together – really cool bars (The Fairy Forest and The Black Sheep – both of which I visited again with Toni and 2012). Many of the most interesting people I met on my first backpacking trip to Europe, I met in Barcelona.
One morning, off a wicked hangover, I decided to go check out the zoo. Not for any other reason than I didn't know what to do. When I got to the zoo, I was quickly aware of the fact that they had a very special attraction at this particular zoo. In captivity they had the worlds only Albino Gorilla, Snowflake.
At the time of my visit they were building him a new enclosure, so he would only come out to visit us every 15 minutes. After 15 minutes of waiting, Snowflake came barreling out the gate with a chip on his shoulder. He stopped right in front of the viewing window and started pushing all the other normal gorillas out of the way. He never looked at the crowd even once. We all stood there oooing and ahhhing taking pictures of this magnificent animal who wouldn't even glance our way.  Finally, when he sensed his time was up…he stood up…got as close to the glass as possible…turned around….took a huge shit…then trotted out the door. He hated us and he wanted us to know it.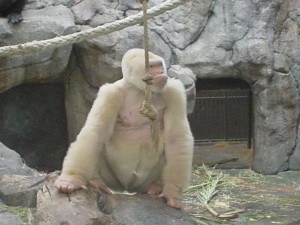 Only one year later, I heard he died of natural causes. 39 years old. I saw his face once again on the cover of a Basement Jaxx album.